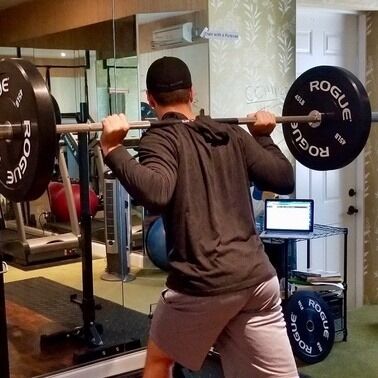 Get the freedom and flexibility to train where and when you want. Supplement your gym time and continue to train with the best Coaches 24 hours a day, 7 days a week, at home, at your school, or when you are on the road.
BEYOND MOTION®'s Virtual Training website offers the most comprehensive and custom virtual training option available. Our online training programs are designed specifically for your needs and goals. Your first step is a 30 minute FaceTime (or ZOOM) consultation. Then we build your custom training program taking your workout location and equipment available into consideration. Quality matters, so we created an extensive workout video library so that every exercise you do has a video demonstration to go along with it.
We know you want accountability and to see results, so our partner platform requires you to record your weights, sets and reps so that every week your program becomes more challenging and continues you to help you improve.
What's included in my monthly package?
Start with 30 min consultation via FaceTime, Skype or Zoom to evaluate your situation, analyze your goals, see what equipment you have and answer your initial questions.
Within 48 hours after your initial 30 minute consultation you will receive an email from our partners at Team Builder. This email will provide you with a link that allows you access to your custom workout program.
You will have a new workout program each week based on your previous weeks workout.
Each exercise has an instructional video created by Beyond Motion, so your technique will be instructed step by step.
As long as you remain on Beyond Motion's Virtual Training program you will have access to our videos and online journals to help you further your knowledge.
Benefits of our virtual training program
Work out on any day and at any time you prefer
Get the same great workout from the comfort of your own home, hotel, or school
Stay on track with your fitness goals
Add virtual training to your weekly in-person training at Beyond Motion for a comprehensive training schedule
How does it work?
You can either purchase a training program from our website or via the Beyond Motion app. Once you do you we will receive notice that you are interested in training with us. You will then receive a call or email from our team to schedule your initial 30 minute consultation. From that point on you will have access to your personal Team Builder link which is where you will access your weekly workout programs.
Do I need a full gym of equipment?
You don't need much of anything to participate in our virtual training program. During our initial 30 minute consultation we will ask you what equipment you have or what you would like to purchase. We are able to design your workout for you based on purely body weight and "props" you may have laying around your house, or we can design a workout for you based on a complete "gym" set up. Since everything is customized to your needs we are able to work with you in every way.
What if I want to purchase equipment to use at home?
If you are looking to purchase equipment to use at home we have you covered. Not only do we have a partnership with Amazon to get you the best fitness equipment options they have available, but we have also partnered with one of our professional fitness equipment companies to get you access to the fitness equipment that you may want to purchase for your home as well. During your initial 30 minute consultation we will discuss your goals and help you determine what fitness equipment would be best for you to purchase. Then you can use one of the links below to place your order.
PerformBetter.com Weight Lifting Equipment

Stay At Home Training Equipment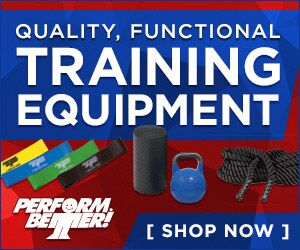 Who is virtual training for?
These sessions can be adapted for any fitness level. As always, we recommend consulting your medical professional prior to beginning any exercise program.
Please remember that since we are creating custom programs for your specific needs if more than one person in your household would like to train, they will need a program for their specific needs which may differ from yours. Each person will have access to their own custom account on Team Builder.
I have been LOVING my virtual training during this time of quarantine. Between my FaceTime Pilates sessions with Amy twice a week, and my virtual strength training program designed by Rick, I have been able to maintain working out 5-6 days a week and have been able to maintain my fitness and health needs. The workouts are so challenging and comprehensive, covering all mental and physical components. I particularly appreciate how they are specifically designed for the demands of my equestrian sport. Being at home with four kids, I also appreciate the ability to do the program on a schedule that works for me. The true testament to my virtual training has been when I am riding. I have noticed that my strength and endurance are right where they need to be even though I have not been able to physically be in the gym. The virtual training has been such a wonderful tool for me, and I look forward to continuing to take advantage of the program in the future, especially during the summer months when I am typically on the road. Thank you Beyond Motion for your continued commitment to my fitness goals!
Laurie P