We love sharing all of the latest news about our athletes… This was posted today in the Chicago Tribune.
On any given Friday last offseason in Naples, Fla., visitors combing Vanderbilt Beach might catch the sight of a 6-foot-6 paddleboarder in the Atlantic Ocean or see the same tall, lanky athlete catching footballs at Pelican Bay Park.
During baseball season, White Sox ace Chris Sale works every fifth day. But once it ends, that's how often Sale's personal trainer in southwest Florida lets him play — relatively speaking. So every Friday from November until early February, Sale capped a rigorous workout week with an entertaining physical exercise outside the gym that broke up the monotony.
"We tried to keep it fun on Fridays," said Rick Lademann, the co-founder of Beyond Motion health and fitness facility who has trained Sale the last four years. "Paddleboarding, running wind sprints in the park, catching Hail Mary passes … he got some looks."
On this Friday in Yankees Stadium in New York, Sale will command stares again as he tries to become the first Sox pitcher since Jon Garland in 2005 to win his first eight starts. A Sale of the century indeed; the lefty with electric stuff became only the fifth Sox pitcher since 1913 to start 7-0. He breezed through batting orders with a 1.79 earned-run average over 50 1/3 innings — the highest total in the American League after his last start Sunday.
Sale's stamina has been as impressive as his devastating slider, endurance Lademann says hardly came by accident. More by design.
"When Chris first came to us four years ago, he never had been through something like this so now he understands his body more," said Lademann, a Loyola Academy graduate from Deerfield who worked under Bulls strength coach Al Vermeil from 1996-2000. "Chris matured astronomically. The biggest growth has come from the mental side. He wants it."
While Cubs pitcher Jake Arrieta's famous fitness regimen caused the team to name a Pilates room for him in its new clubhouse, Sale's commitment to conditioning received much less fanfare. With a quick start in mind, Sale appeared last Nov. 1, weeks before Lademann expected him, intent on improving his body.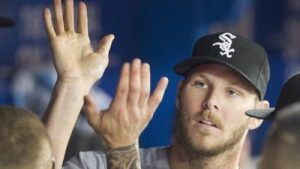 "I saw an urgency in Chris I usually see with NFL players I train," said Lademann, 41.
And they trained hard, according to how Lademann described the four-hour-per-day workout week that led up to the fun-filled Fridays.
Monday: In what Lademann called "dynamic pre-hab" to prevent injuries, Sale focused on everything from rotator-cuff exercises to lower-leg squats and dead lifts. They dedicated 30 minutes to soft tissue and finished with stretching.
Tuesday: The high-volume intensity day included circuit training, with four exercises specifically designed for Sale.
Wednesday: On the day devoted to Pilates, Sale followed instructor Amy Lademann, Rick's wife and facility co-founder, and concentrated on his core and flexibility.
Thursday: A heavy lifting day, Sale focused on his glutes and leg muscles, eventually building up enough power to squat 255 pounds eight times, according to Lademann.
"He's a skinny guy but strong as hell," Lademann said.
Yet in this young season of promise, Sale has left a deeper impression with his mental strength. He boldly took on club executive Kenny Williams after the Adam LaRoche saga, a risky public stand that unified the Sox and clearly identified Sale as a clubhouse leader. He stayed professional even when the Sox's cutting of buddy John Danks stung personally. But most significantly, Sale slightly adjusted his approach on the mound, trusting the Sox's improved defense enough this year to pitch to contact rather than go for the strikeout every time.
Oh, Sale still possesses that fiery intensity that caused him to hit himself in the head with a baseball last Sunday in frustration — but he also uses it more to his advantage. Testament of that headiness came from Twins catcher Kurt Suzuki after Sale's last start.
"He's smart," Suzuki told MLB.com. "He's not just a thrower. He's doing a little more finesse stuff this year than in the past."
As for the future, Sale seems well-suited as the franchise player for a Sox organization that holds team options for two seasons after his contract expires in 2017. That price certainty for Sale removes the anxiety surrounding Arrieta's next deal. Comparing Chicago aces, Arrieta has sounded more unsettled about his contract in the last two months than Sale ever has in the three years since signing his — a five-year, $32.5 million package that is baseball's best bargain.
Yet those who know Sale best say he measures worth in other ways.
"He's authentic," Lademann said. "He's like a hermit — he doesn't go out. He loves his wife (Brianne) and son (Rylan) … and video games. He's not into the limelight. There is no rock-star mentality. He's a blue-collar guy from Lakeland, Fla., who grew up without a lot of money and has stayed true to who he is."
Staying true to his routine, Lademann will send Sale a text before Friday's start the way he always does. A trainer never stops training prized pupils.
"Just little stuff to let him know I'm watching," Lademann said. "I think my last one was: 'Excellence is defined by consistency and consistency is defined by location."
At this stage of the season, and his career, it's hard to imagine Sale in a better place.
Article first posted in the Chicago Tribune by David Haugh
Contact Reporter Chicago Tribune